Investor Day 2021: What do international executives think about the Hauts-de-France region's economic attractiveness?
Estimated reading time :
4
minutes
Investor Day 2021: What do international executives think about the Hauts-de-France region's economic attractiveness?
Estimated reading time :
4
minutes
A successful first edition
"Politicians don't create jobs, entrepreneurs do" Xavier Bertrand, Regional President
On Tuesday 14 September, at the request of Regional President, Xavier Bertrand, the Hauts-de-France Region organised its 1st Investor Day in partnership with Nord France Invest and Entreprises & Cités.
This unique event gave foreign investors in the region a chance to give their feedback on the strengths and levers needed to drive the region's economic attractiveness.
With 150 present at the region's headquarters (due to COVID restrictions) and one hundred joining remotely, this first edition was an overwhelming success.
Nord France Invest brings you the highlights from this productive morning.
The Hauts-de-France Region: Undeniable assets
At the first roundtable discussion, the directors of Siemens, Brandquad, Procter & Gamble and Mondelez International highlighted the region's strengths:
An ideal geographic location, right in the heart of Europe, allowing easy and fast access to key markets.
"Hauts-de-France is an extremely central region which enables us both to serve our French consumers perfectly and also to export globally." Béatrice Dupuy, President and General Manager, Procter & Gamble France and Benelux
A strong industrial culture, the force of which is no longer in question: the region is ranked #1 nationally and #3 in Europe for industrial FDI, according to EY.
"An understanding of the challenges we face as industrialists and as companies by local authorities is extremely important. It's a key factor in the region's attractiveness." Amélie Vidal-Simi, President, Mondelez France
An excellent quality of life, essential for attracting talent.
"When choosing our location, we based our decision on 5 criteria: geographic location, knowledge of the retail/wholesale sector, the talent pool, the level of English and the cost and quality of life. One year on, I think we made the right choice, and we're here to stay." Anthony Despres, Managing Director Europe, Brandquad
The region's structural assets are enhanced by tailor-made support meeting companies' need through a genuine understanding of the issues faced.
"When we moved here, the Region showed us how ready it was to fight for us and support our project" Didier Leroy, Chairman of the Board, Toyota Motor Europe

"We had the opportunity to remove all the administrative hurdles, and we had the unfailing support of the local authorities. That was absolutely decisive for us" Amélie Vidal-Simi, President, Mondelez France

Levers to strengthen the Haut-de-France's economic attractiveness
During the 2nd round table discussion, Jean-Pierre Letartre, the morning's host, surveyed General Mills, Kubota, IBM and Ecolab about the challenges that need to be met to strengthen the region's attractiveness both nationally and across Europe. 4 key challenges emerged:
Develop the use of foreign languages particularly through a network of international schools.
"The region needs to develop its network of international institutions throughout the training cycle and the territory" Andrea Ceriani, Industrial Operations Director, Kubota Farm Machinery
Accentuate training to develop specific skills, especially for intermediaries.
"Hauts-de-France has a great hand to play creating jobs in the digital sector to combat the talent shortage by focusing on education and professional re-training." Béatrice Kosowski, President, IBM France
Focus on innovation and new technology to support economic transformation. A movement confirmed by Marc Lhermitte, during the EY Barometer presentation that kicked off the session:
"The two fundamentals of economic recovery are technology and the environment"
And above all, continue promoting the region internationally. Although this was recommended by 85% of companies in the region (according to KPMG 2017), some preconceived ideas are hard to change and hinder the attraction of talent.
David Martin, Vice-president Managing Director France and Belgium, Ecolab, concluded his contribution by advising the agencies that support local investment to go the extra mile by offering companies "best practices" to implement and help them integrate perfectly into the local business environment.
"It could be really interesting to offer investors additional services, beyond the administrative hurdles, around best practices to face tomorrow's challenges, such as CSR, the ecology and more."

Dickson Constant and Toyota: two companies that chose to re-invest in Hauts-de-France
This morning of discussions was also an opportunity to hear from two companies about how they first established a presence in Hauts-de-France:
Toyota Motor Corporation, which first set up in 1997 and has made numerous further investments in the region; and
Dickson Constant, which last year chose to set up its second plant in the region rather than Portugal.
Didier Leroy, President of the Board, Toyota Motor Europe, and Eugène Deleplanque, President- Managing Director, Dickson Constant, spoke about why they chose the Haut-de-France region, and more importantly, the factors that drove them to re-invest and expand in the territory.
Hear their testimonials and discussions in the event replay: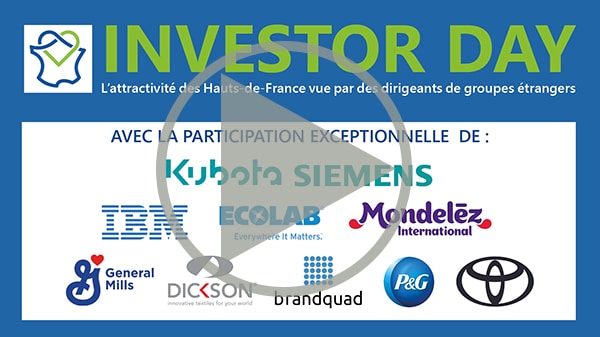 Patatam, the leading European second-hand fashion brand, launches its first site in Hauts-de-France.
Häagen-Dazs invests €16 million to expand in the Hauts-de-France region.